*The banner is done, hooray! ...now to work on the columns. Ow.*

Yeah, so, I wanted to make this shrine. T_T;; 'cause... well... uh...crap. In my childhood, I always envisioned the two together and they MUST be together...wahahaha. *bricks Marvel and then some!* Anyway, uh, yeah, they're also a popular coupling. Right?


...yes.


I got more comics. 24! YEEEEEEEEEEEEEEEEEEEES. NUMBER TWENTY FOUR IS MINE!


... *edges away from Kia*
[Scans] [Screenshots] [Fanart] [Why I love and hate Marvel] [Why I made this shrine]
[Links] [You know you support them when...]
Email me at kiapurity@leamonde.net for more suggestions/sending me images for my scans/screenshots page and whatever. (Heehee. There is a comic book store near me!

Then I should be able to order some online too.)
Unfortunately, Marvel owns Gambit and Rogue.
I only own me and Chibi Kia and uhm, some other characters out there. Fate, hello? Blanche? Everyone? Nobody? Aaiee!
Chibi Kia: *sedates Kia with Dr Pepper*
Yay! Dr Pepper! <3 <3
(...nevermind that Dr Pepper appears in X-Men 2...)

I SUPPORT with all of my sanity!
Chibi Kia: What sanity?
... okay, so I support anyway! :P
Chibi Kia: So do I! ^-^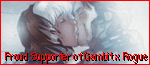 Aren't they cute? ^-^
Chibi Kia: Yes. ..; *disturbed by Kia*
[Back to Kia Purity's website] [Back to the Sanity--er Shrines Page]