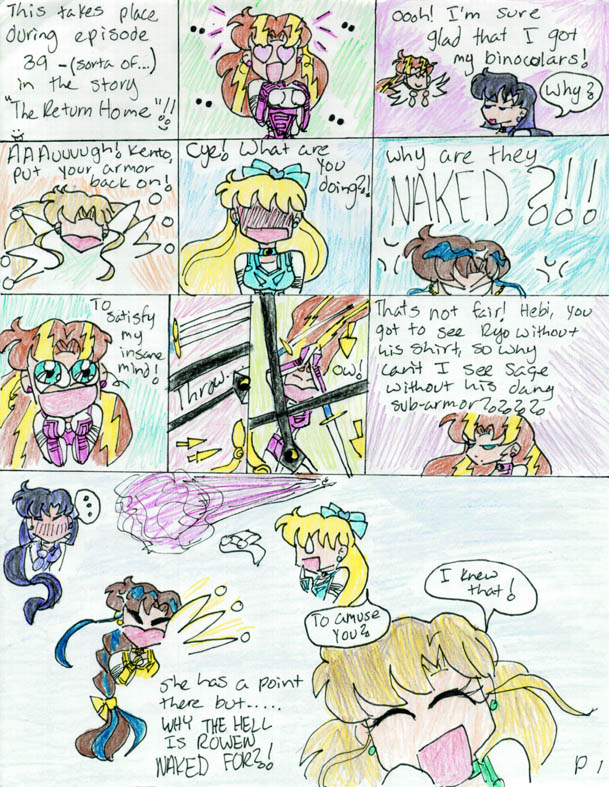 Script:
Panel 1: (note) This takes place during episode 39 (of the show)-sorta of- but it's more likely to be taken during the place in my series: The Return Home
Panel 2: Everyone is staring at Kia who has hearts in her eyes plus binoculars
Panel 3: Kia: Ooh! I'm sure glad I got my binoculars!
Hebi: Why?
Panel 4: Okami: AAAUUUUUGH! KENTO, PUT YOUR ARMOR BACK ON!
Panel 5: Omu: Cye! What are you doing?!
Panel 6: Tora: Why are they NAKED?!
Panel 7: Kia: To satisfy my insane mind! (Yes, that is me by the way, I'm out to hit my virtue for not working at proper times)
Panel 8: *sound effects of throwing weapons thru air*
Panel 9: The weapons hit Kia. OW!
Panel 10: Kia: THAT'S NOT FAIR! Hebi, you got to see Ryo without his shirt so why can't I see Sage without his dang sub-armor????
Panel 11: Hebi: ....
Tora: She has a point there but why the hell is Rowen naked for?!
Omu: To amuse you?
Okami: I knew that!