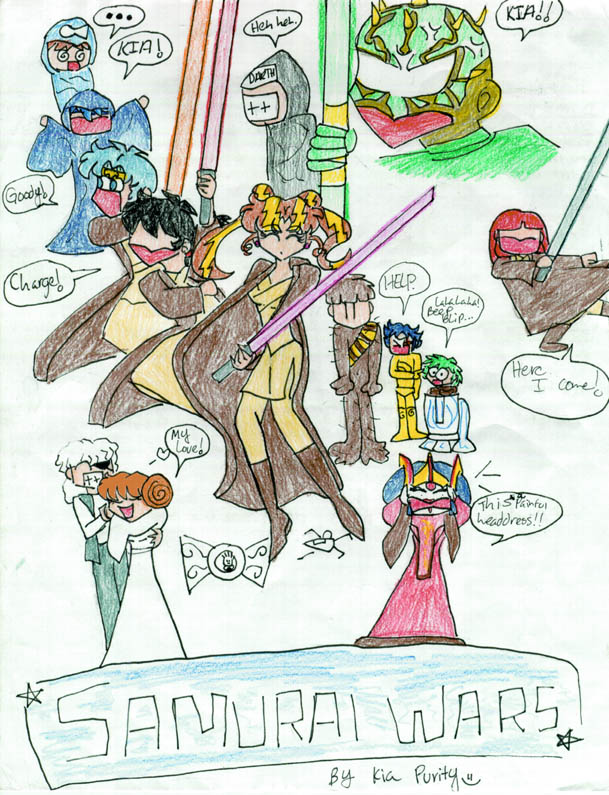 Note: This will be just like Star Wars but with your favorite characters. Hee! (Yes, I've gotten hit by the Star Wars flu :))
A long time ago, in a land far, far, away from everything normal.
Oh wait... one day in Wichita Kansas, a young lady twisted her favorite Star Wars
movie into a play where nothing is normal at all, y'know! You'll have to remember that from reading the
last Ronin Plays where you almost dropped dead from laughing your butt off... but wait...
haven't you noticed something weird about this text size??? Doesn't it look
awfully familiar??? Go ahead and stare at this for hours
and hours! It's fun!!!
THE PLAY BEGINS!
*A young Jedi female with her auburn hair with lighting streaks in them... (mysteriously in a Sailor Moon hairdo) was standing in front of the window, staring at the vast buildings running upwards the sky.*
Kia: Wow... pretty buildings!
Ryo: Please explain to me why I'm wearing this?
Kento: FOOD! *eats a chocolate cake*
Kia: Because???
Ryo: KIA!!!!!
Kia: Okay, this is Samurai Wars.
Kento: Uh oh.
*POOF*
Darth Flirt: I will have my revenge! *jumps at Kia*
Kia: GYAA! *gets out pink light saber and starts fighting Darth Flirt*
*Darth Smartbutt, Darth Fish appear*
Ryo: Oh no! More Darths! There's one that's shaped like a blue fish!
Kento: And the other one's smartbutt!
Darth Smartbutt: KENTO!
Kento: Dais?
Darth Smartbutt: No! It's me, Rowen!
Ryo: Uh oh.
*A hairy monster comes in and laughs before kicking Darth Smartbutt and Darth Fish into a spaceship*
Wookie: I am Chewully!
Ryo: ...
Chewully: Princess Mia will be here soon!
Kento: ...
Princess Mia: Oh dear, what's going on?
Dais Solo: Don't worry, I'll save you!
Kento: ...
Ryo: Wow, that was big!
Darth Darth: SUFFER!
Ryo: AAH! *gets out red light saber*
Kento: Oh my god it's DARTH DARTH!
Darth Darth: It's me, the Grim Surfer!
Darth Flirt: Kia, you'll regret it for embarrassing me!
Kia: NEVER!
Kento: ... *throws chocolate cake at Sekhmet*
Sekhmet: .... why the heck am I a blue and a white robot?!
Cale: Cause you're ugly? Being C3PO isn't fun.
Darth Darth: Mr...Sekhmet, can I have your autograph?
Sekhmet: TOMORROW!
Darth Darth: Ryo, your underwear is on your head.
Ryo: YOU SUFFER! *hits Darth Darth with a frying pan* And can someone please list the credits? Or something?!
Kia: Umm... I'm still fighting Darth Flirt.
Darth Flirt: MY NAME IS SAGE, NOT DARTH FLIRT!!!!!!!!
Ryo, Kento, Rowen, Cye: ... O.O She did that to you?! She... ruined your hair then did your face up like that... wow!
Darth Flirt: This is not funny!!!! I'm trying to kill her because of that!!
Kia: Okay, one sec... this play is little disorganizated because I have not seen the first movie.
Ryo: TELL ME ABOUT IT!!!!! I KNEW THAT FROM THE START SO FIX IT KIA!!!!!!
Cast:
The Jedis--
Ryo: who's supposed to be like Qui Gon Jinn.
Kento: Umm... just a Jedi that eats all the time.
Kia: The only Female Jedi who gets to fight Darth Flirt
Anubis: Probably like Obi Wan Kenboi

The Darths--
Rowen: Darth Smartbutt
Cye: Darth Fishy
Ken Takino: Darth Darth (Kia: It was Ken's idea!)
Sage: Darth Flirt-- supposed to look like Darth Maul.
Talpa: The Emperor. What more can I say?
Royality--
Mia: Princess Leia (Princess Mia).
Kayura: Queen Amilalda (doh... I got the spelling messed up) (Queen Kayura)
Droids--
Sekhmet-- R2D2 (Sekhmet2D2)
Cale-- C3PO (Cale3PO)
Misc--
Dais-- Han Solo (Dais Solo)
Ully-- Chewbacca (Chewully)
Kia: Better?
Ryo: Yes. GET THE PLOT STRAIGHT!!!!!!!
Dais Solo: But I'm a pilot...
Ryo: NOT THAT!!
Darth Flirt: KIA! GET ON WITH IT OR JUST FORGET IT!!!!
Kia: Ya sure?
Darth Flirt: YES!
*clang*
Ryo: I just know this.... oh, forget it.
Anubis: What..?
Kento: Huh? Aren't we supposed to find a jedi?
Anubis: Like who?
Kento: *points to the "by" section* HER.
Anubis: .... *sweatdrops*
Ryo: Uh-oh... cripes...
Naboo.....
Princess Mia: Um...
Queen Kayura: Errr....
Both: ACK!!!!!!!!!!!!!
Somewhere.....
Darth Flirt: Kia will suffer.
Darth Darth: HEH HEH.
Darth Smartbutt: I agree with you, Sage.
Darth Fish: @_@ Glub... glub... glub...
The other darths: ...............................
Emperor Talpa: Fetch me my rubber ducks!
Darths: Errrrrrrhhhhhhhhh... *looks scared*
Cale3P0: Aren't you glad we're away from Talpa?
Sekhmet2D2: Beep Yeah! Beep.....
Dais Solo: Now... we shall explore the galaxy and make the Dark Side mad!
Chewully: Um....
Dais Solo: What?
Chewully: *points to Samurai Trooper...er...Storm Trooper!* RUN!
*all scream and runs away*
Kia/Jesno Wawic: Sigh...lala.... *gasp* *looks down* I don't believe it! The jedis! *jumps down*
Ryo: ... *gets clonked*
Kento: O_o wow.
Anubis: I'm glad I wasn't standing there.
Ryo: .................
Darth Flirt: DIEEEE!
Everyone: AHHH!
Ryo: *fights with Darth Flirt as everyone runs to the ship* You realize that...
Darth Flirt: This is just a damn play, right?
Ryo: YEAH! *jumps into the ship*
Darth Darth: Ewwwww.... *washes Emperor Talpa's backside*
Darth Fish: I want outta here!
Darth Smartbutt: Me too....